Gosier Island is one of the most underrated places in Guadeloupe. Sure, many people do spend a day on this beautiful island while in Gwada, but you wouldn't believe the amount of tourists that completely skip it. Some may do so because they don't know much about it. Others skip it because they think they know everything there is to it.
"It's just a small island! What could there possible be to see or do?"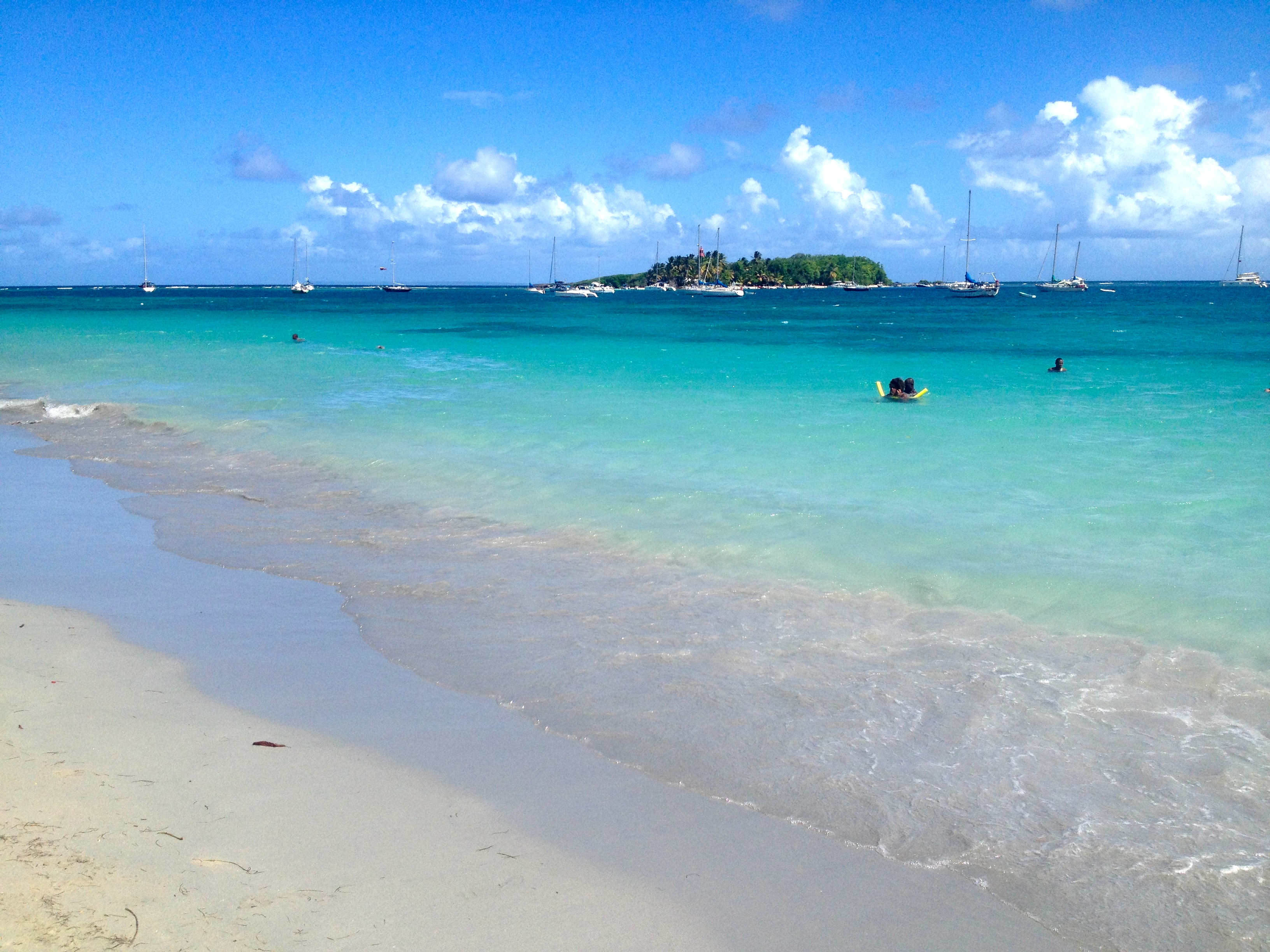 Well, let me just tell you this much… If there's one place within Guadeloupe that is a true paradise with a capital P, Ilet du Gosier is it. It's a Robinson Crusoe-style island that has swaying palm trees, small white sand beaches, amazingly clear turquoise and light green water, and Guadeloupe's second oldest lighthouse dating back to 1929. If the day is sunny, you'll see that the colors of the island are SO pretty that it's borderline ridiculous.
Doesn't think sound like a place where you would want to go ASAP? That's what I think! I've been to this island probably 50 times and I'm still amazed by its beauty every time I go back. Just a couple of days ago I was swimming there and found myself immersed within the most turquoise waters you could imagine, as the sun was shining exactly from the right angle. Heaven!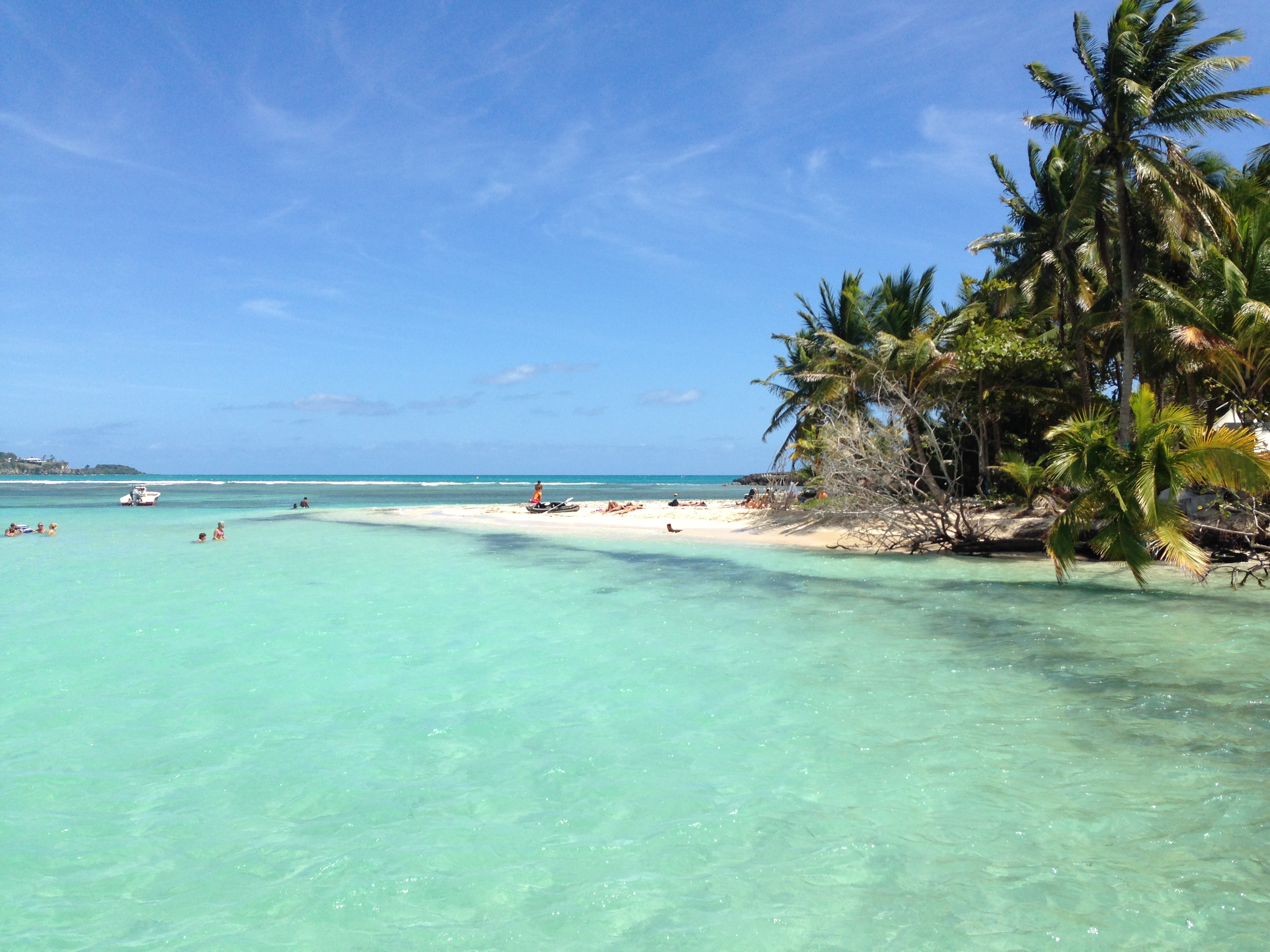 The best thing to do is to bring lunch and water with you, and spend several hours on the island. You can snorkel, swim, read books, visit the lighthouse, drink some beer… Just unwind! That is the main reason you decided to come to Guadeloupe anyway, right? : ) Alternatively you can bring your laptop and get some work done. If you have to work somewhere, Gosier Island at least provides you with a heck of an office view (and lots of shade, so that you can actually see the screen).
There's also an outdoor restaurant, Au Bord De La Mer, which sells drinks and lunch. Chicken and rice will set you back about 12 euro, and a fish plate costs 15-17 euro.There are also some sorbet vendors operating near the restaurant. Unfortunately the meals and the ice cream are served on plastic plates and cups, which is not ideal. I suppose that is because there's no running water on the island (and note: no toilets either).
The island is a popular spot for locals to do barbecues and picnics, as there are several shaded gazebos. There are tons of grilling spots, but you'll need to have your own metal grid and coals if you want to take advantage of them. Please remember to bring your trash back with you, as the island has no trash cans. And if you see trash on the ground, please be kind and carry it back with you. Let's all make an effort to keep Gosier Island spotless! It shouldn't be that hard, considering it's just four hectares in size.
The cool thing about Gosier Island is that it feels luxuriously remote but really isn't. It takes just 5 minutes to reach the island by boat from center of Le Gosier (the boats run every 30 minutes from 9 a.m. to 5 p.m.). The trip costs 5 euro roundtrip – and there's even a loyalty card for frequent users of the boat. This carte de fidélité entitles you to get every 10th trip free. Many of us living in Guadeloupe love to swim over to the ilet straight from La Datcha beach. On average it takes 18 minutes to swim there and 12 minutes to come back (due to the ocean currents pushing you). If you do decide to swim to the island, it's best to have buy a bright inflatable buoy so that boats can see you in the water.
See you on the ilet! If you have already visited, what did you think?