Just over a week ago I wrote about Hurricane Irma's visit to Guadeloupe, which was largely uneventful. Little did I know then that Guadeloupe was about to get hit much worse by another hurricane, a beast named Maria. Whereas Irma passed Guadeloupe from a fairly large distance, Hurricane Maria was another story – at one point it looked like she was headed straight towards us. In the end the eye of the storm passed areas of Guadeloupe, namely Les Saintes and the Southern part of Basse-Terre island, from a distance of 30 km. This isn't a lot, and it meant that much of Guadeloupe was within the hurricane area and the rest was still under a severe storm warning. After all, this was a Category 5 hurricane at this point. During Monday night, Sept. 18, the alert level rose all the way to purple, the highest possible in France. Everyone was told not to go outside. With all the loud howling and wind noises going on, I can't say that I would have been tempted to do that anyway! Like everyone else, we just huddled at home that night watching the news on TV (though that wasn't possible for the 80,000 people who lost electricity). Water was cut as a precaution and didn't come back until a few days later.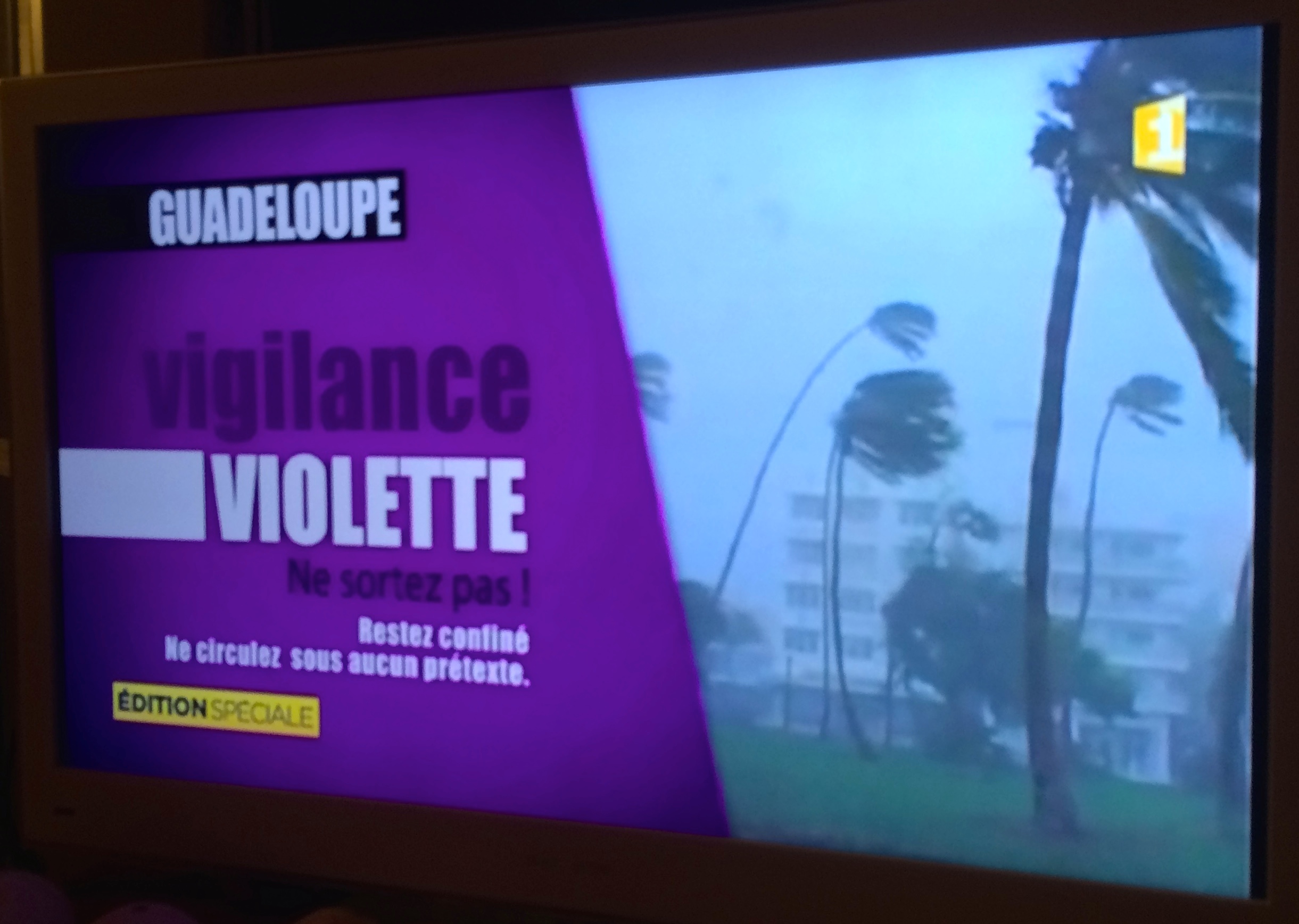 Since the passing of the hurricane, I've been bombarded with questions via email and my Instagram account (@guadeloupeguide) about how things are now in Guadeloupe. Tons of future tourists are worried about the state of their vacation island. Some are planning to come here soon and others later in the fall or winter with the cheap Norwegian Air flights. Some told me they already cancelled their trip as they weren't sure of the damage the island took.
While Guadeloupe hasn't been featured that widely in international news after Maria, many people are concerned for a good reason: they've seen the crippling and apocalyptic destruction of our neighbors Dominica and Puerto Rico. Seeing that, anyone would get worried. Things look really dire on those islands. I'm so sorry for what the residents there have to go through!
That said, I'm very happy to report that while Guadeloupe suffered some damages, it's all very manageable. We were very lucky and got away with the worst of it. Here's a run-down of what went on here:
–Four people died in Guadeloupe, according to the latest statistics. One was hit by a falling tree, one fell into the sea. Two were on a boat near La Désirade that sank. Tragic, but nowhere near as bad as Dominica with it's death toll that currently stands at 27 and may still rise. In Puerto Rico the hurricane has claimed at least 13 victims. Puerto Rico has also been set back by 20-30 years in development as the island's infrastructure has been so severely damaged. We are very fortunate in Guadeloupe to not have any damage to that extent.
–Lots of trees are down and fallen all over Guadeloupe. The same goes for billboards. Seeing the thick roots of some of these fallen trees really makes you understand that this storm had incredible strength. The rainforest road D23 that crosses Basse-Terre island, also known as Route de la Traversee and Route des Mamelles, is currently closed every day from 8 a.m. to 4 p.m. until Oct. 6 due to the clean-up efforts. This means that people who want to visit La Cascade aux Ecrevisses (the "Shrimp Waterfall") need to go there either super early or just before sunset time.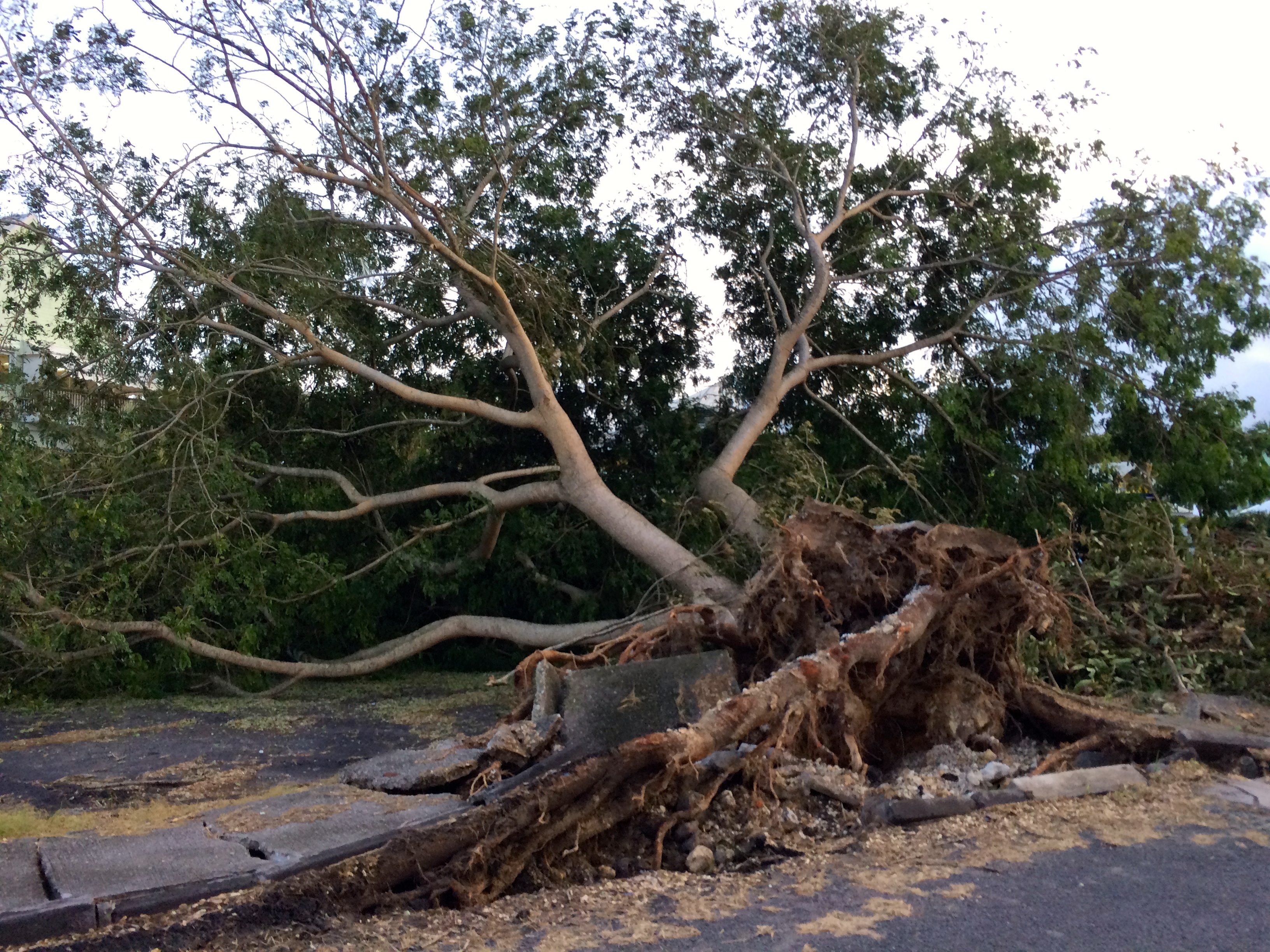 -The waterfront city of Basse-Terre experienced severe flooding, as did parts of Les Abymes and the low-lying Belle Plaine neighborhood of Le Gosier. This was very sad, some people lost everything. The footage of water rushing over the seaside boulevard of Basse-Terre looked really wild. Thankfully this flooding only affected a small part of Guadeloupe, and has since then dried up. It's nothing compared to Puerto Rico, where flooding is still a huge issue and a dam is at risk of bursting as well. Again, we can count our blessings here in Gwada.
–The banana fields of Guadeloupe are pretty much 100 percent destroyed. Here's a photo I took this weekend when flying over Basse-Terre. As you can see, the banana trees are all completely flattened. The farmers are now suffering from great distress and financial worries. It will take about nine months for the bananas to regrow. So don't expect to eat many local bananas when you come here…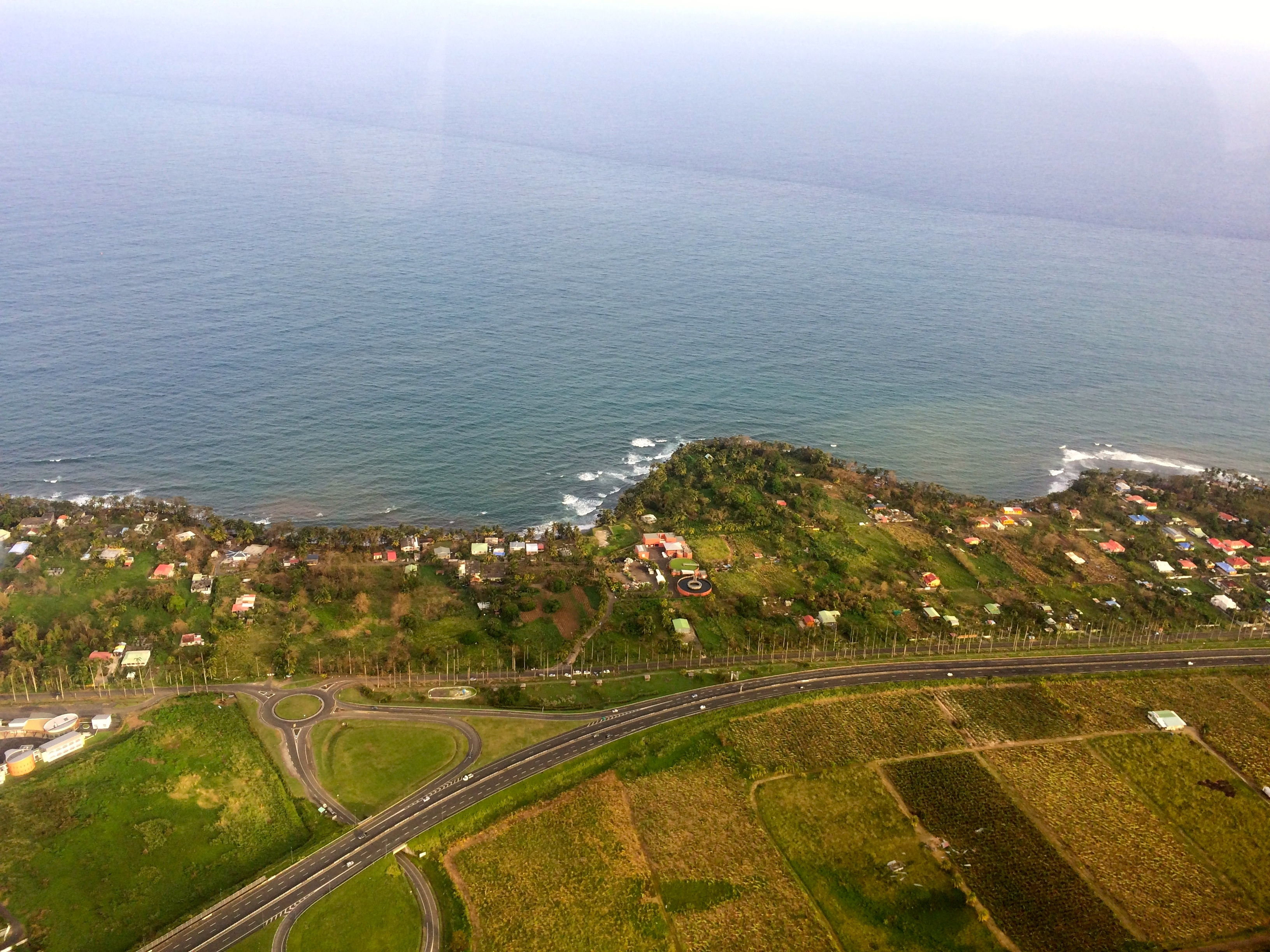 -The archipelago of Les Saintes took a hard hit. The islands of Terre-de-Haut and Terre-de-Bas were the closest to the eye of the storm. They are also very small and helpless little islands in the middle of the sea, so I really feared the worst. We flew over to Les Saintes a few days ago and saw certain things that were very upsetting, but we also felt relief. Things are not as bad as they could have been. Sure, there is currently no electricity and it can take months to restore the power lines. The black wires looked pretty tangled up. The island has lost at least a third of its trees, if not half. The roads are clogged up with tree branches that are waiting to be hauled off. It looks barren in parts now. I saw a few houses without roofs, and on many buildings the wind had peeled off the paint. Terre-de-Haut is known to be very colorful, but now it looked kind of washed out. A couple of buildings were completely reduced to a pile of wood, such as a popular waterfront restaurant. Sailboats were strewn around on beaches. The commuter ship Miss Guadeloupe has become shipwrecked on a beach.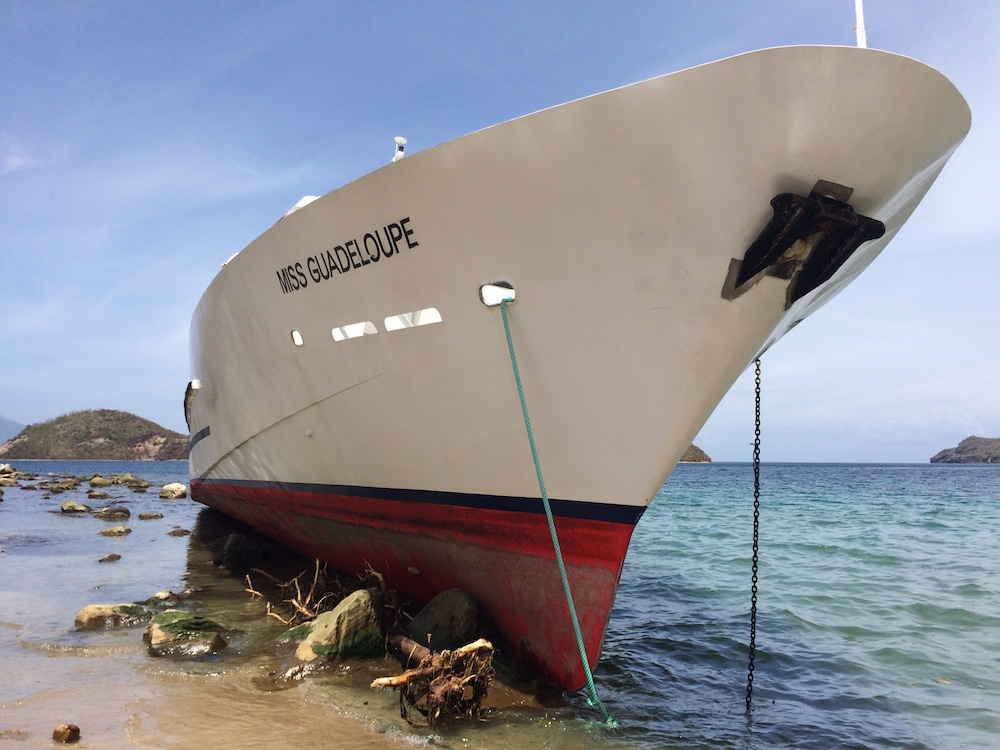 The hurricane had apparently ripped off the three heavy iron chains that were holding it down at the town pier. It will take some manpower to get it off the beach, as it's tightly lodged between rocks now. In the meantime it has become a popular destination – who wouldn't want to take photos of this unusual sight?
The reason why I'm still feeling pretty optimistic for Les Saintes is the attitude of the Santois, the local people. Being descendants of fishermen from Brittany and freed slaves from the Guadeloupean mainland, these guys are a strong-willed bunch. They won't let a small (or even big) hurricane destroy their awesome islands. During the day we spent at Terre-de-Haut, we saw plenty of people hard at work: cleaning their yards, repainting walls, chopping down trees, hauling branches away with pick-ups. Many were smiling and laughing – clearly the experience had only made them more resilient. One guy was excited about all the octopi that the storm had brought close to the shore. He caught three within an hour. When I asked about kayak rentals from a woman, she laughingly pointed to her garage that was covered by trees. She said she wasn't able to get the kayaks out right now.
On another positive note, the beaches of Terre-de-Haut were still as beautiful as ever. They had less palm trees but still a good amount anyway. And right now there are no tourists (partly because it's low season, but mostly due to the hurricane scaring people away). So we got to have this beauty all to ourselves!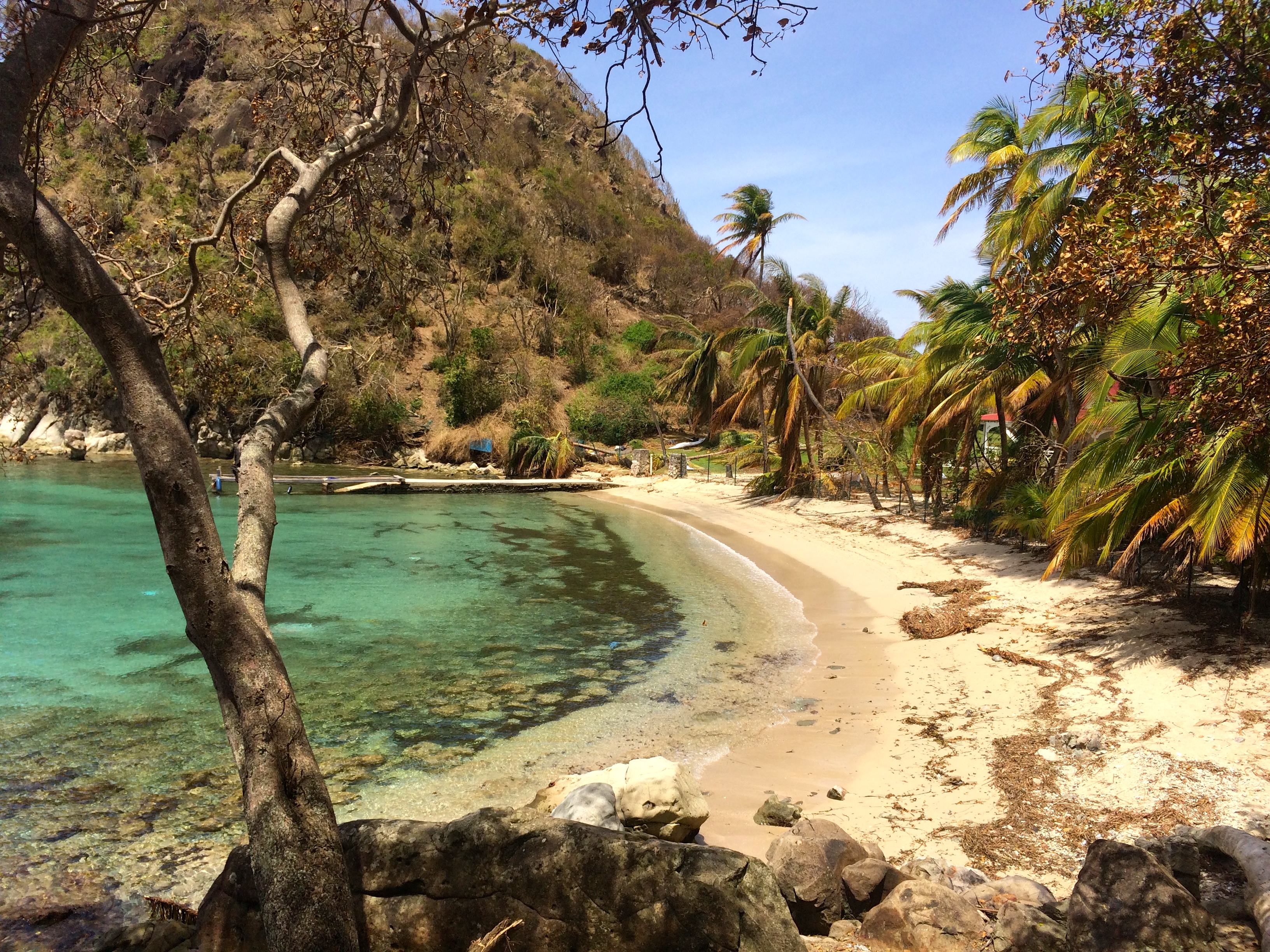 Elsewhere in Guadeloupe things are also getting back to normal. I've also seen photos of the beaches of St. Anne, and they still look beautiful. In Le Gosier the town beach of La Datcha is about a third shorter than usual, as the sand has washed away and the water levels are still high. There's also a lot of seaweed and trash that has washed up with the waves. But I expect it to look normal within a month again. In St. Francois some sailboats sunk in the marina during the hurricane, but they are likely to be lifted up soon. I haven't heard of major damage to any of the beaches there.
So overall my message is this: Don't worry, Guadeloupe is still here. If you are traveling here later during the winter, you may not even notice that we recently had to deal with a severe hurricane. If you are traveling here soon – sorry about the broken trees and piles of branches you may encounter. The clean-up will take a while. 
Hope that helps reassure some of your worries! See you all soon. 🙂
PS. If you'd like to help some of the other islands ravaged by Hurricane Maria, check out the needs of Dominica Relief and/or donate to any of the organizations serving Puerto Rico. The islands need all the help they can get so that they can recover from this!