As you may know, the Caribbean is not the cheapest area of the world to vacation in, since most goods and supplies have to be imported from elsewhere. The French island of Guadeloupe is known as being particularly pricey when compared to independent Caribbean island nations such as the Dominican Republic and Dominica. In fact, the prices in Guadeloupe are said to be 35 percent higher than in continental France, and on par with central Paris.
But this doesn't mean that you should bypass visiting Guadeloupe altogether, or postpone your trip until after you've won the lottery. After all, Gwada has so much to offer: more than 250 amazing beaches, about 50 waterfalls, pristine rainforest, hot springs and an active volcano that you can climb up. You can also enjoy French pastries and get to know the interesting French-Caribbean culture.
There are also plenty of ways to ensure you won't go broke while chilling in this tropical paradise. Here are my top five tips on how to save money while visiting Guadeloupe.
1) Fly with Norwegian Air
Traveling to Guadeloupe from the East Coast of the US is now extremely affordable with the new Norwegian Air flights. Roundtrips from New York to Pointe-a-Pitre can be found for about $200, especially if you are flexible with your dates. Roundtrips from Fort Lauderdale can be even cheaper. Even if you don't live near either of these Norwegian hubs, it's often worth it to fly to these cities with some other airline in order to catch your flight to Gwada. If you don't want to risk buying two separate flight tickets, check out www.Kiwi.com. The website allows you to combine traditional airlines like Delta with low-fares carriers like Norwegian. If you miss your connecting flight, Kiwi.com will book you on the next flight and pay for it, as long as the new price is no more than double what you originally paid for the flight (if it's more, you will need to cover the difference). Check out this blog post from Heart My Backpack about the details of using Kiwi.com.
2) Book accommodation from Airbnb
While there are about 300 hotels in Guadeloupe, the best accommodation deals are often found on Airbnb. There are more than 5,000 private apartments or rooms for rent on Airbnb across Guadeloupe. Check this post to find out about some of your options. The best way to save money is to just book a room instead of an apartment. This way you can also interact with local residents and get valuable tips for what to see or do. If you are not signed up with Airbnb yet, please use my referral link so that both of us will get some free travel money.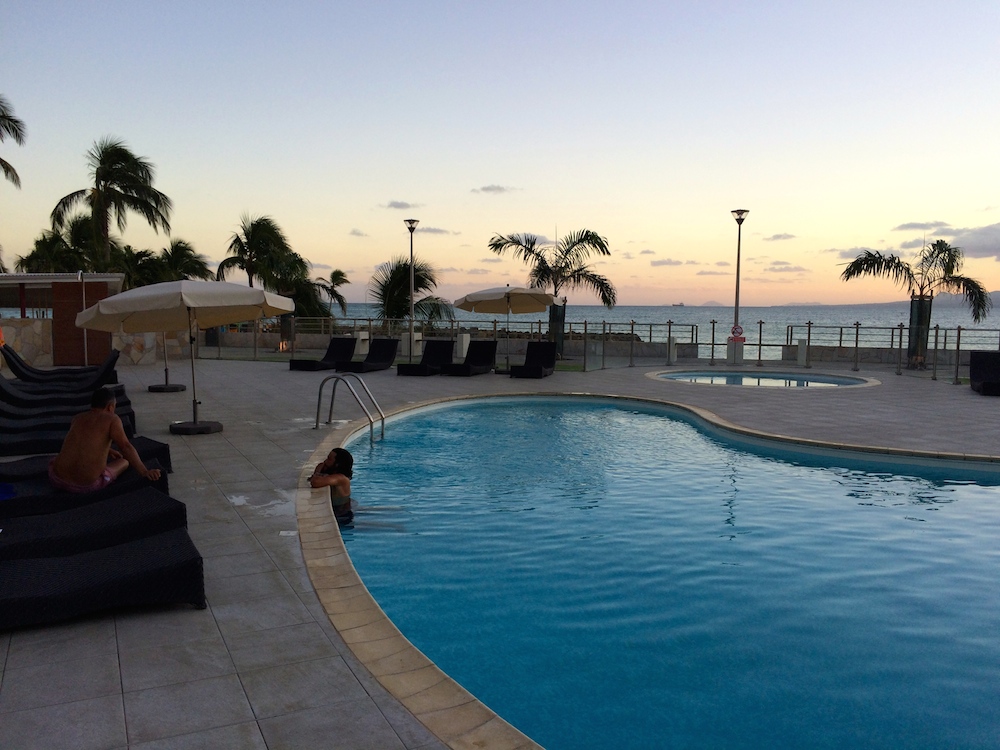 3) Do a part-time car rental or none at all
If you are traveling on an extremely tight budget, you may need to forgo car rental altogether as that generally costs at least 35 euro per day in high season. In that case, check out my tips for how to make the most of your vacation in Guadeloupe even without your own set of wheels. A quick tip: Steph Taxi offers the cheapest airport shuttle service at least if you are staying on the island of Grande Terre.
One way to save money would be to use Steph Taxi to get to your accommodation from the airport, and then to only rent a car for a few days of your trip (preferably from the town where you are staying). The rest of the time you could chill on whatever beach is closest to your accommodation, or take the boat out to the beautiful Gosier Island if you are staying in Le Gosier or Ste Anne (which is only a bus ride away from Le Gosier – this is one of the few well-functioning bus routes in Guadeloupe!) This would give you a good mix of action and relaxation while saving money on a car rental.
Alternatively you could try to find a cheap car to rent from Carfully.fr, a French website that is the "Airbnb of cars." Here you will find locals renting out their vehicles for as low as 10 euro per day.
4) Eat out only at lunch time
If you eat dinner in a restaurant in Guadeloupe, the main dish will often cost about 15-25 euro. Add an appetizer and a few glasses of wine to that, and you are looking at 35-40 euro per person. Ouch. Thus my money-saving tip is to cook dinner at your Airbnb or eat only fast food at night, such as a pizza or a bokit from one of the many roadside stalls (bokit is a Johnnycake of sorts, or a deep-fried stuffed pita pocket, if you will).
Eating in restaurants at lunchtime is much more affordable. Most beachside restaurants have lunch specials or set menus. This way you can have a two- to three-course meal for 10-15 euro. It won't be anything fancy, but you can often choose between tasty grilled chicken or a whole fish, and try a range of local side dishes. Don't forget to try a planteur fruit rum punch at least once in Gwada.
Also, one of the best lunch deals in Guadeloupe is the buffet of the Blue Kafé. located within the premises of the Plantation Sainte Marthe resort in St. Francois. The buffet costs 18.50 euro and has a great variety of foods and desserts. After eating, you are allowed to go swim and lounge by the resort's beautiful infinity pool.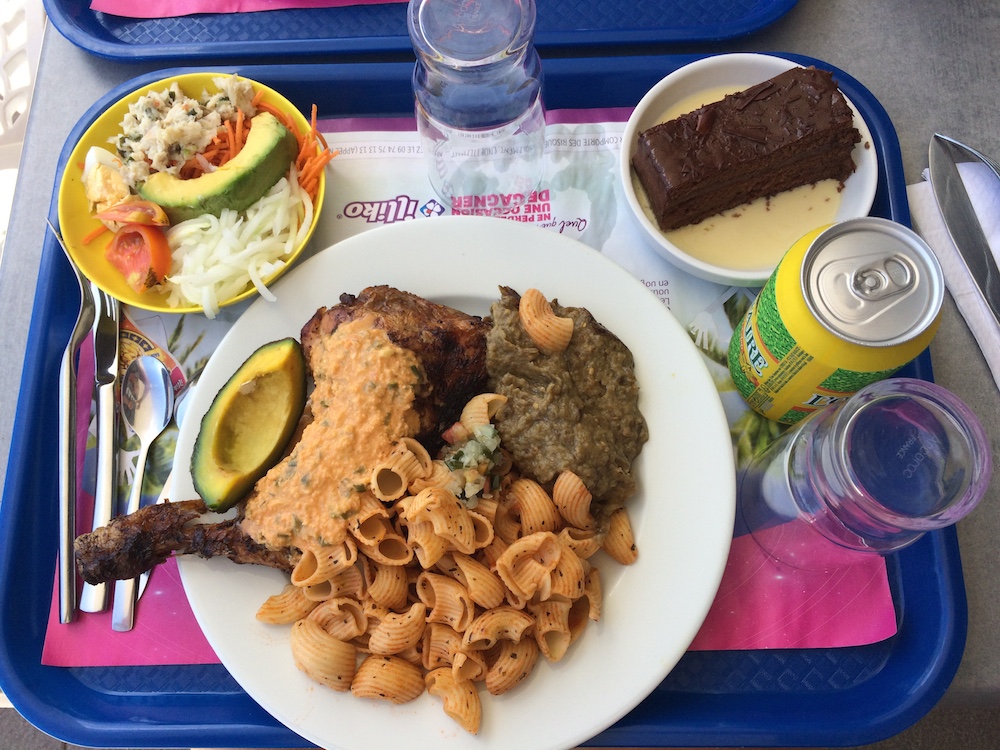 If you'd prefer avoiding restaurants altogether, you can also have a bokit for lunch and not be hungry for the rest of the day! Or you can visit a bakery and do a picnic lunch on a beach. Baguettes cost only about a euro, and you can visit our basic grocery store called Leader Price to pick up affordable cold cuts, cheeses, olives, wine and rum. Yummy!
5) Focus on free activities
Guadeloupe is heaven for people who are into water-sports as you can do diving, surfing, kite and wind surfing, sailing etc. There are also many interesting parks to visit for people who are into tropical plants and animals, such as the Deshaies Botanical Garden, the Parc des Mamelles Zoo de Guadeloupe and the Valombreuse Gardens. But these all cost money.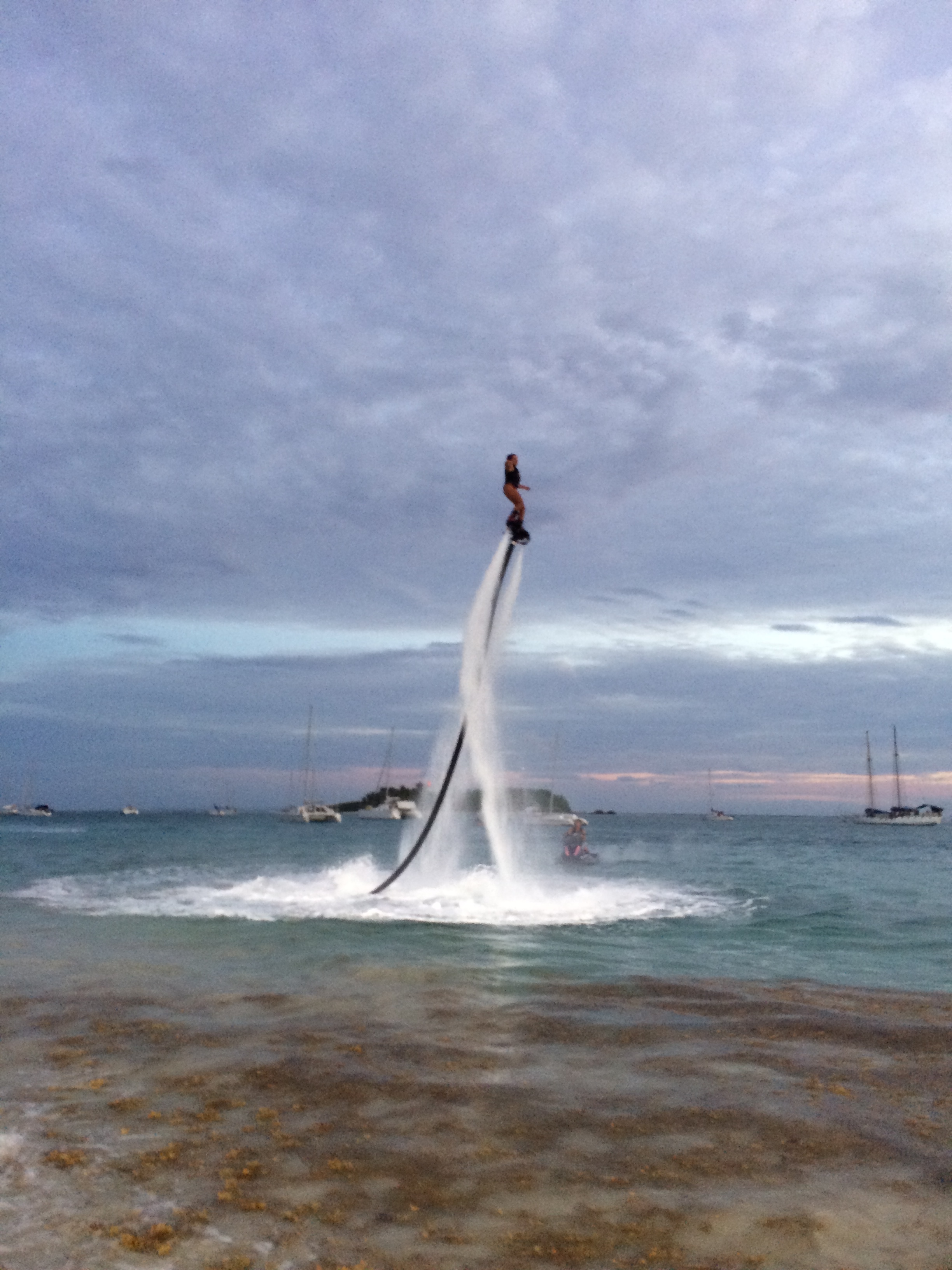 If you are on a budget, you should forget about these paid activities and focus on the free ones. Those include going snorkeling off beaches with your own gear (there aren't many rental places in Guadeloupe anyway), visiting the viewpoint of Pointe des Châteaux, trekking to some of the 50 waterfalls, hiking up the volcano and chilling in the hot springs. These are some of the highlights of Guadeloupe anyway and they are totally free (well, visiting the Carbet waterfalls costs 2.30 euros, but that's almost nothing).
See, visiting Guadeloupe on a budget doesn't have to mean you'll have a miserable time. In fact, I'm sure you'll have an awesome time!
Shameless self-promotion: Make sure to pick up my guidebook to find out exactly how to get to these free activities and more. Trust me, there are at least 5 good reasons for needing a guidebook in Guadeloupe.