So you've scored a crazy-good flight deal to Guadeloupe with Norwegian Air and are ready to take off for your tropical vacation. Yay! There's just one problem: You don't drive. Or maybe you do drive, but the car rental prices in Guadeloupe are out of your reach. Whatever your reason may be, the fact remains – you will have to do this trip without your own set of wheels helping you out.
As you may have found out from doing research online, Guadeloupe isn't the easiest place to explore without a car. Public transportation can be very unreliable, and taxis are expensive. Uber and Lyft don't operate on the island. So should you cancel your whole trip if you can't get a rental car? No way.
Here's how to make the most of your time in Guadeloupe sans voiture.
Step 1: Find accommodation in Le Gosier or Sainte Anne
When you are visiting Guadeloupe without a car, it's best to find accommodation on the island of Grande Terre, and more specifically in the coastal towns of Le Gosier and Ste Anne. These two towns are small and walkable, and have nice beaches near the center. Both have a range of stores and restaurants that you can easily get to with your own two feet. If you are booking an apartment via Airbnb (which offers great deals in Guadeloupe), look for a place that is within walking distance of the beach of La Datcha in Le Gosier, or the town beach (Plage du Bourg) of Ste Anne. This way you will be in the heart of it all.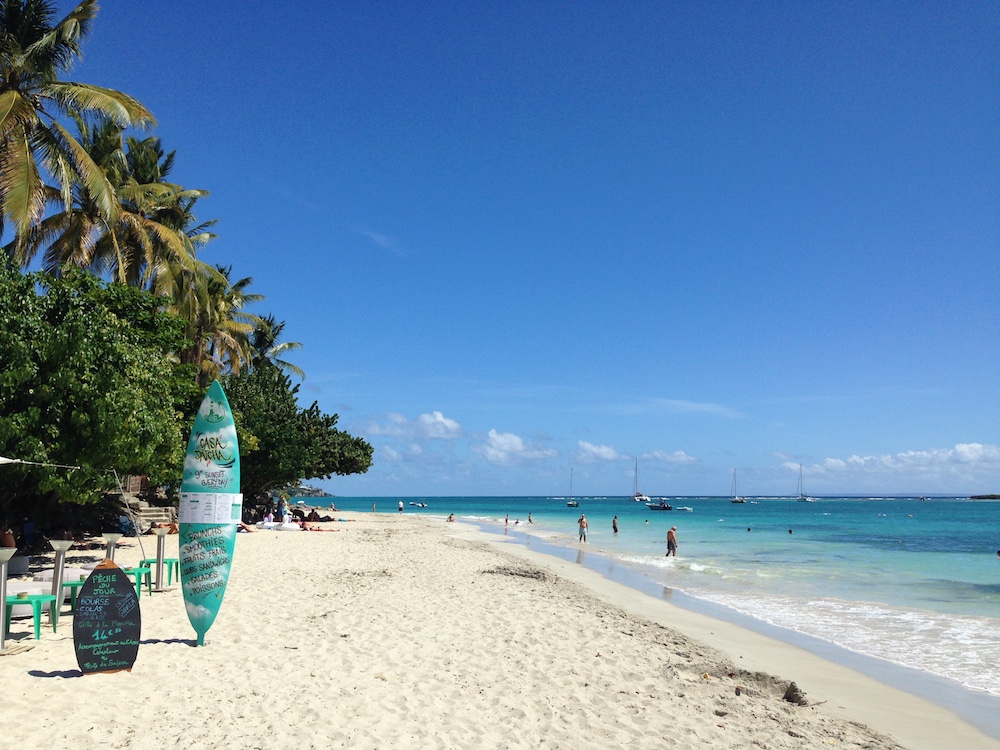 The same goes for hotels and guesthouses – look for those that are near the beach. Some places that fit this bill in Le Gosier include Residence Turquoise, Residence Pergola and Auberge de la Vieille Tour. If you don't mind walking around 15-20 minutes to reach the town center, you can also book any of the Le Gosier hotels that are located along the Route des Hotels: Karaibes Hotel & Residence, La Creole Beach Hotel and Spa, or any of the three hotels that make up the Karibea Beach Hotel Gosier.
In Sainte Anne your best bet is Hotel Le Diwali, which is right at the edge of the beautiful Plage du Bourg. If you don't mind walking about 20 minutes along the highway to reach the town center, the bungalows of Marineland could also be an option. It's located on a small private beach. For those looking for an all-inclusive option, there's Club Med La Caravelle. It's located on the spectacular La Caravelle beach, but do be prepared to walk around 20 minutes to the town center and the town beach (you can walk along the beach and the beach boulevard, so it's not that bad).
Step 2: Book a shuttle to your accommodation
Your flight will most likely arrive at night, which means that you will need to rely on taxi or shuttle service to get to your Guadeloupe home base. A taxi to Le Gosier costs around 30-40 euro, while a taxi to St. Anne can set you back even 50 euro. You will find plenty of taxis waiting outside of the terminal right after you walk out. Some drivers may not speak English, so it's good to download a French dictionary app on your phone before arrival. If you'd prefer contacting a taxi driver beforehand, you could check out Transportaxiguadeloupe or send an email to TaxiMenerville at jmenerville @gmail.com.
That said, the cheapest transport option is usually booking an airport shuttle. Steph Taxi is one of your only options for that in Guadeloupe – transport to Ste Anne costs 24 euro for one person and 30 euro for two people. Transport to Le Gosier should cost the same or slightly less.
If you do happen to fly in during the daytime hours, using the airport bus service offered by Karulis could be possible. This bus travels between the airport and Le Gosier about once per hour between 5:40 a.m. and 6.50 p.m., and costs just a few euros. You can check out the schedule of buses AE1 and AE3 online to see the route works for you. This bus leaves from behind the "cruise ship airline terminal," which you can find by following the signs to the car rental desks. This is the small terminal building on the right side of the main terminal where you will most likely arrive.
Step 3: Make the most of the bus connections between Pointe-a-Pitre, Le Gosier and Ste Anne
While bus connections are generally pretty sporadic in Guadeloupe, there's one line that works fairly well: the bus from the center of Pointe-a-Pitre to Le Gosier and onto Ste Anne. So wherever you are staying along this line, you can easily get to the other towns. The buses run from about 6 a.m. to 6 p.m., about every 30 minutes (bring a book to keep you occupied while you wait at the bus stop). The trip from Le Gosier to Pointe-a-Pitre is just 1.20 euro. The trip all the way from Pointe-a-Pitre to Ste Anne should be around 3-4 euro. So even if you can't explore all of Guadeloupe without a car, at least you can see these three towns. The main highlight in Pointe-a-Pitre is the highly acclaimed slavery museum, the Memorial ACTe.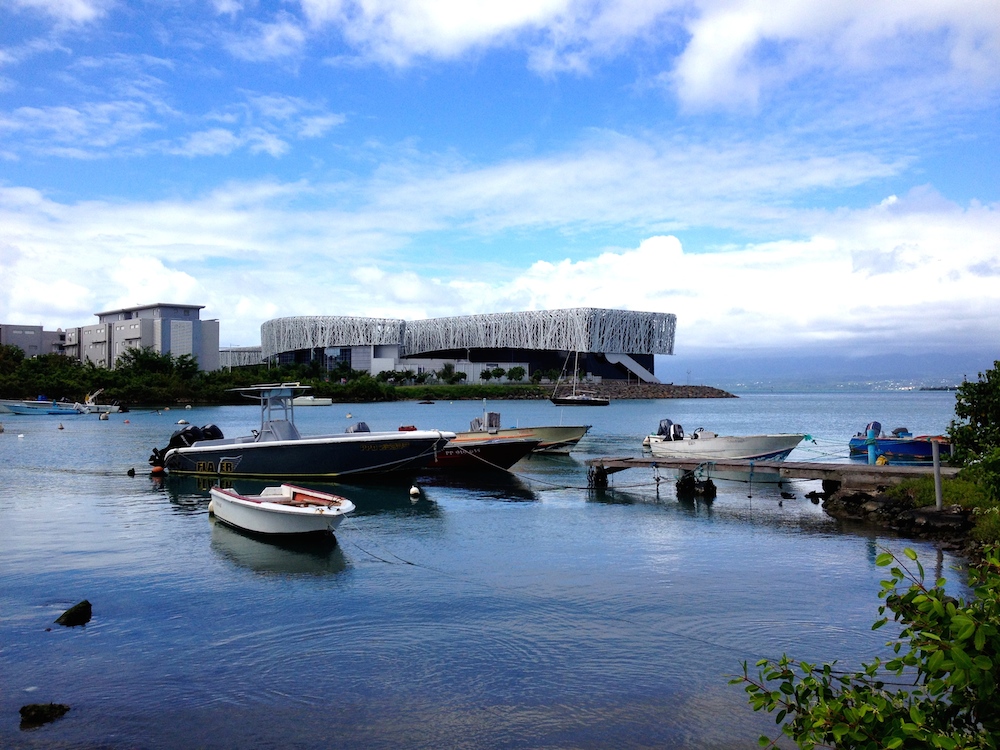 Step 4: Visit some of the small islands
One of the nicest things to do in Guadeloupe is island hopping. There are about a dozen islands that you can visit outside of the main "continent" of Guadeloupe. Those include Les Saintes, La Désirade and the small sand bank islands of Guadeloupe Bay, a.k.a. Le Grand cul-de-sac Marin. The problem is that many of the ports, such as the one in Sainte Rose, are hard to get to without a car.
But there's at least one island that is very easy to visit: Gosier Island. You can take a 5-minute, 5-euro roundtrip, boat ride to this Robinson Crusoesque island from the pier that is in the center of Le Gosier. Ilet du Gosier is a must-destination particularly if you are staying in Le Gosier or Ste Anne (as you can easily take the bus from Ste Anne to Le Gosier to catch the boat).
Visiting the sand bank islands of Le Grand cul-de-sac Marin, such as the slowly disappearing Ilet Caret, is also possible without a car. You just need to pick a boat trip that leaves from the Marina Bas-du-Fort in Le Gosier instead of Ste Rose. Some options are the catamaran trip of King Papyrus, the pirate-themed day trip of Le Flibustier and some of the trips by Regy Balade (if you contact the latter, make sure to specify you'd want to leave from the Marina Bas-du-Fort instead of Ste Rose). These lovely day-long boating trips cost about 70-80 euro including lunch and rum drinks.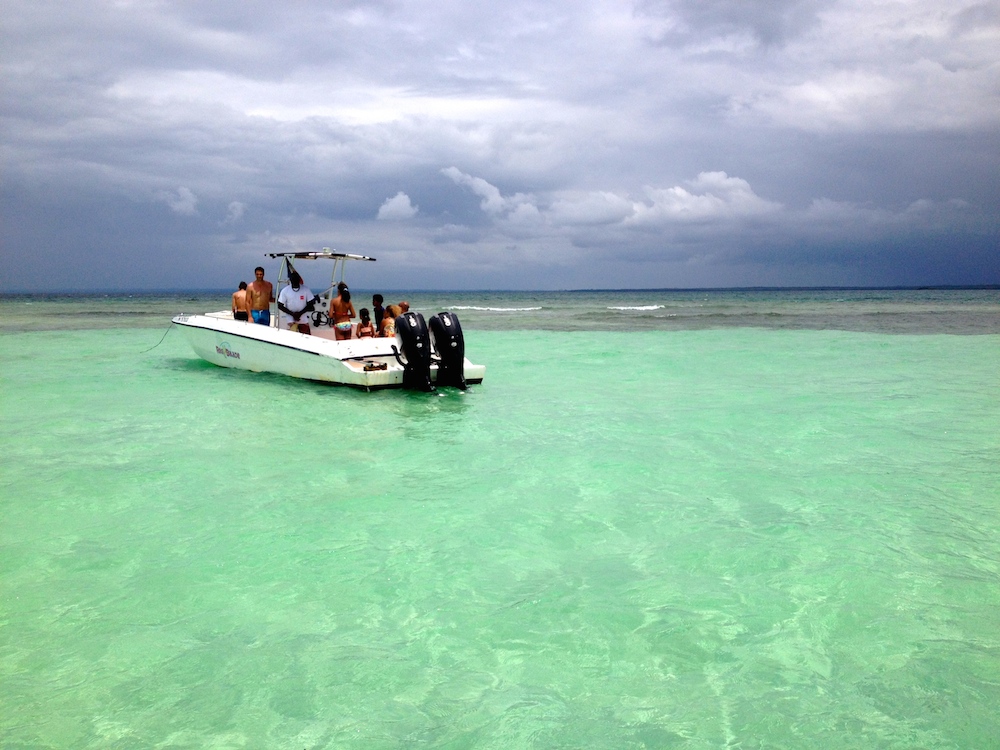 You can get to Marina Bas-du-Fort by bus from Ste Anne or Le Gosier as long as you don't mind walking about 10 minutes – you need to get off the bus near the University of Pointe-a-Pitre. Alternatively you can take a taxi from Le Gosier to the marina, which costs around 15 euro one-way. From Ste Anne you are looking at a cost of about 30 euro one-way, so the bus is certainly a more economical solution. Just make sure to leave really early, as you never know how long the bus trip takes in the morning traffic.
Step 5: Join a guided tour
If you'd like to visit Basse Terre during your stay, a car is necessary. That side of Guadeloupe is very hilly, and buses don't run frequently. As a car-less tourist in Guadeloupe, your best bet is to book a guided tour. If you are interested in a private tour, you can email me at guadeloupeguide @gmail.com to ask about touring options.
There are also a couple of big tour companies you can contact, such as Coeur des Iles, which often picks people up at their hotel. Satevan is another company that advertises tours online. Make sure to ask if the tour will be conducted in English or in French.
Guadeloupe Explor is a smaller company that offers themed minivan tours for up to 8 people. If you are a German speaker, you could also get in touch with Guadeloupe Adventures – they do small minibus tours for German- and English-speakers.
See, visiting Guadeloupe without a car is certainly not impossible. It just requires a bit of creativity. Either way – I hope you have a great time on the Butterfly Island, whether traveling by foot or with your own set of rental wheels!